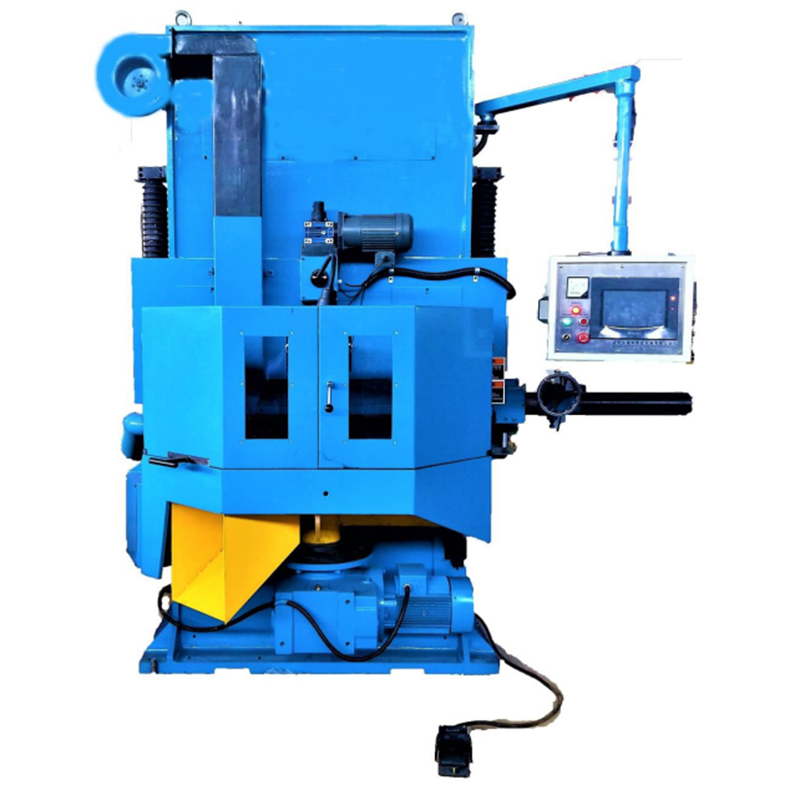 CNC spring double end grinder machine spring grinding machine M7790K-20
---
This machine tool is used for dry grinding of compression springs and can be used for the production of large wire diameter compression springs.
---
LEARN MORE
Product detail
Range of application
CNC spring double end grinder machine M7790K-20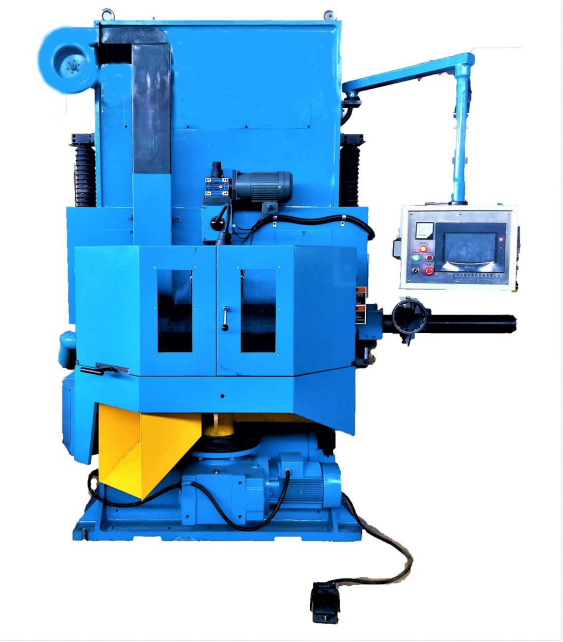 The machine tool can be used for two different types of grinding, progressive grinding and press-in grinding.
The machine tool has two grinding heads, upper and lower, whose spindles are located on the same axis, and the upper and lower heads are driven independently by two grinding wheel motors. The feed of the grinding heads is speed adjustable (motorised) and the grinding wheels of the upper and lower heads can be compensated for wear by means of their respective grinding wheel compensation motors.
As the machine is a large wire diameter spring grinding machine, the grinding time differs considerably from the loading time, so the machine uses a single material tray and a foot switch pointing to achieve loading and unloading.
This machine is an automatic spring grinding machine. The upper grinding wheel automatically feeds in the direction of the material tray during the grinding process. The feed rate (or pressure) is inversely proportional to the increase in grinding volume. The ground spring can get a predetermined height, and the grinding cycle is controlled by an electronic adjustment system.
The machine is equipped with the position control program of the upper and lower guide plates relative to the upper and lower grinding wheels. According to experience, it can be used to compensate automatically once for a certain number of discs or manually according to the actual size of the grinding wheel after grinding.
Specification of M7790K-20 spring double end grinder machine :
| | |
| --- | --- |
| Model: | M7790K-20 |
| Wire : | φ3~20mm(Max 25mm) |
| Spring OD: | φ200mm |
| Spring Length: | 60-400mm |
| Placement Tray Diameter: | φ1000mm |
| Maximum Manufacture Speed: | 300pcs/min |
| Grinding Wheel Diameter: | 900X300X90mm |
| Grinding Wheel Speed: | 750r/min |
| Total Motor Power: | 43.5kw |
| Machine Weight: | 8T |
| Dimensions : | 1740X2550X2730mm |